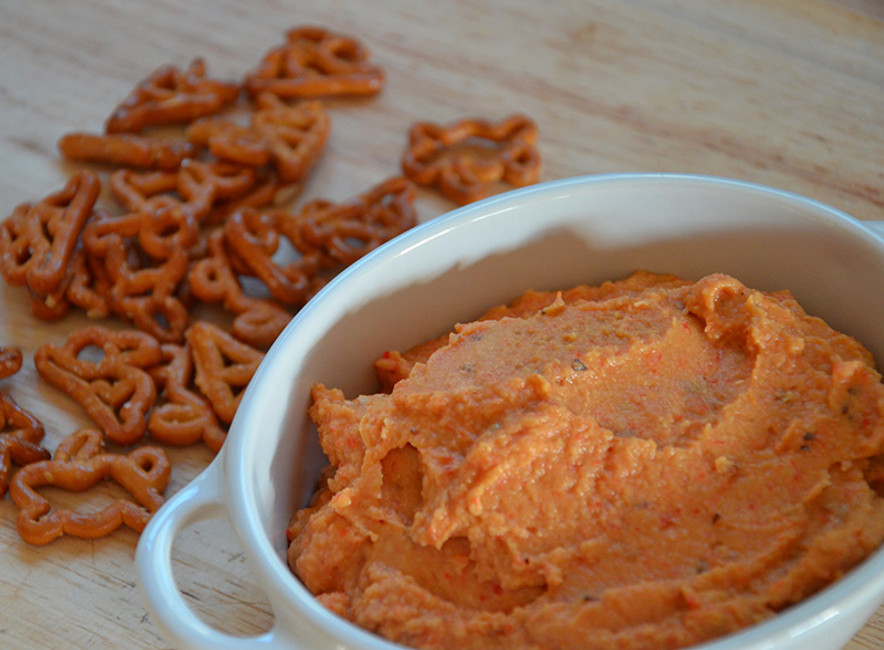 Red Pepper and Eggplant Hummus
My son Royce and my daughter Hayden are pretty much Hummus junkies. They could eat it everyday, which is a good thing, because it is not only super tasty, but incredibly healthy as well. Simple hummus is a great source of protein, folate and iron. When you add in the eggplant and red bell pepper, you are also getting a good dose of vitamin C, fiber, potassium, magnesium, vitamin A and vitamin B6. Hummus is also really versatile. You can serve it as a dip with veggie sticks and pretzels or use it as a spread on a wrap or sandwich.
CHECKLIST
– 1 can of precooked chickpeas – drained and rinsed in a strainer under cold running water.
(Look for cans not lined with BPA, we like Eden Foods brand)
– 1/2 teaspoon of kosher or coarse sea salt
– The juice of 1 lemon
– 1-2 cloves of garlic (optional)
– 1 purple eggplant – washed and cut in half lengthwise
– 1 red bell pepper – washed, cut in half with stem and seeds removed. (buy organic whenever possible
as bell peppers can have high levels of pesticide residue
– 1/4 cup Tahini (sesame paste) or olive oil
– 2 tablespoons of water
PREPARATION
Preheat oven to 425 degrees and line a baking sheet with unbleached parchment paper.
Place eggplant and red pepper cut side down on the baking sheet and roast in the oven, on the middle rack, for 20-25 minutes until soft.
Once cooked, scoop the eggplant out of the skin and place into your Sage Baby Puree & Blend food processor with the red pepper. Pulse until smooth.
Add the rest of the ingredients to the food processor bowl and pulse until smooth and creamy. Remove lid of food processor halfway through and scrape down the sides of the bowl with a spoon. Continue blending until desired consistency is achieved. Add a little more water, tahini or olive oil while blending if necessary.
Serve or store.
This recipe is suitable for babies about 10-12 months and up, toddlers, big kids and adults. Always make sure finger-food pieces are a size your baby can handle. Will make enough for 2 adults and 2-3 kids. This hummus can be stored in your Sage Spoonfuls jars for up to 5 days in the refrigerator. Not recommended for the freezer.

Enjoy!